Hello Fashion Lovers! This week was the launch of "to Tommy from Zooey". This collection was a collaboration between Tommy Hilfiger and Zooey Deschanel. I have always been a huge fan of Zooey Deschanel's personal style. This is a girl who knows how to dress like a lady. Zooey is always dressed feminine with some vintage flare. The collection is available online at Tommy Hifiger and Macys. The collection is a pod of dresses and a few accessories. After seeing the collection on GMA this week, I am in love with this collection. I immediately jumped online to check out one of the dresses that caught my eye. Of course by the time I got online the dress was sold out in my size but I will keep trying! Let's take a look at the collection: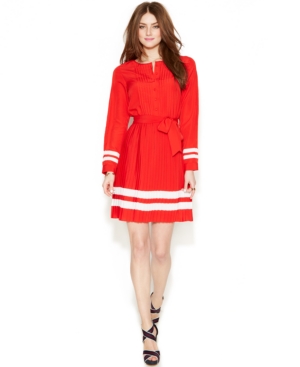 I am so in love with this little pleated number. This baby is red-hot and has been sold out in my size! I want this one!!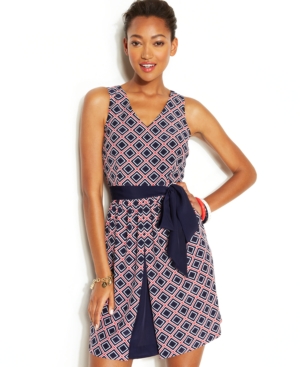 Zooey was wearing this gorgeous diamond printed number on Good Morning America the other morning. If I can not get my hands on the red pleated number I will be picking up this one for the summer. I love the print!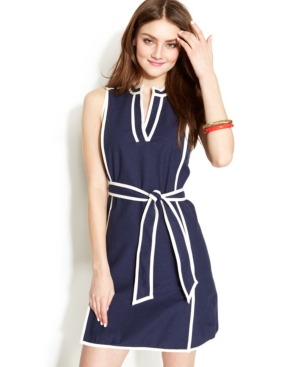 I love the contrast trim on this little navy and white dress. Another great thing it is less than $100! Great price and fabulous style.
I love the look of this short sleeve v-neck dress. With the classic Tommy colors this dress could be a staple in any summer wardrobe and it is comfortable!
Another one on my list, I love this polka dot printed shirt dress. Just like the other dresses in the collection the color scheme is in the classic Tommy colors.
There are a total of 14 dresses in the to Tommy from Zooey dress collection. The price range is $98-$168 completely affordable for this type of collaboration. I will be waiting for the red pleated one but if I can not get it I love all of the other dresses. I will be adding one to my wardrobe for sure! Which dress from to Tommy from Zooey is your favorite? Have you looked at the whole collection yet?