Good Morning fashion lovers! Fall/Winter is my favorite time of year for fashion. Who does not love throwing on a sweater, jeans/leggings,boots and an awesome coat?
I will have some upcoming posts that feature holiday dresses but what about the holiday sweater. For those casual parties and afternoon shopping trips or ice skating with your friends and family, here are some sweaters you can be be rocking this holiday:
Ralph Lauren Blue Label Wool Cashmere Wrap
This cashmere wrap comes in red and black. I think the red is a great pick to wear while going out to do your holiday visiting.
Show Me The Way Cardigan by Free People
I love the fringe on this sweater it adds a little something special to this cardigan. Perfect for sitting by the tree with the one you love.
Winters Day Cardigan by Free People
This oversized metallic cardigan by Free People is perfect for lounging around on Christmas Day. I would definitely wear it to brunch!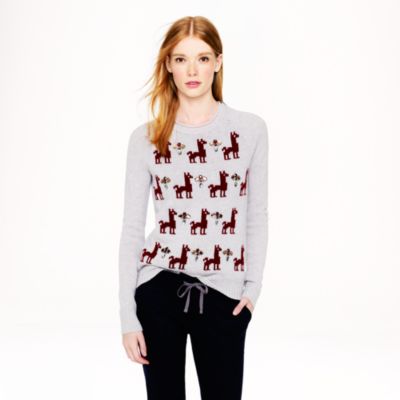 I mean does this need an explanation. It is all in the name. A llama sweater! I need this!
Nothing says holidays quite like a fair isle sweater. This sweater just makes me want to drink hot chocolate and go look at Christmas lights. The neon gives it a modern edge and is typical of a Milly NY design. Being a NY gal I love my Milly!